Victoria L. Dunckley, M.D, is an award-winning integrative child psychiatrist, author, speaker, and activist. She is a nationally-recognized expert on the impact of screen-time on brain health and development, and coined the term "Electronic Screen Syndrome" to describe how electronics can overstimulate and detune a child's nervous system, causing mood, focus, sleep and behavioral issues.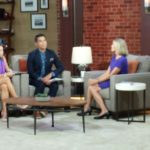 A frequent media commentator for print, radio, documentaries and TV, she has been interviewed on such outlets as the Today show, NBC Nightly News, Investigation Discovery, Good Morning America, NPR, and Fox News LA. She also blogs monthly for Psychology Today.
Dr. Dunckley's groundbreaking book, Reset Your Child's Brain: A Four Week Plan to End Meltdowns, Raise Grades and Boost Social Skills by Reversing the Effects of Electronic Screen Time has received praise from parents, health practitioners, educators, tech addiction experts, and child health organizations.
For media inquiries please contact please contact Monique Muhlenkamp monique@newworldlibrary.com.
For speaking inquiries and time-sensitive media requests, please contact Dr. Dunckley directly at (714) 926-4796 or info (at) drdunckley (dot) com.
Dr Dunckley on Good Morning America: Parents with 2 young kids obsessed with electronics get an intervention (May 18th, 2017):

ABC Breaking News | Latest News Videos
On Hallmark Home & Family: Resetting your child's brain
To view Dr. Dunckley's  "The Overstimulated Child" at the Commonwealth Club in 2015, click here.
RECENT PRESS:
2017: 
 Parents with 2 young kids obsessed with electronics get an intervention (May 18th, 2017; see video at top of page)
Do You Know Enough About the Impact of Screen Time on Students? (May 2017)

Vibe magazine of DB Post in India: Tech addicted kiddo? Get him offline NOW! (5/7/17)
2016:
Fox News LA: Child psychiatrist on electronic screens and children's brains (8/19/15)
Chris Fabry Live!  "Toxic-Free Tips: Kids and Screens" (interview begins at 12 min mark) (7/21/15)
Other television, radio, and videos:

NBC Nightly News, commenting on James Holmes' story (July 2012)
NBC Nightly News Involuntary Mental Health Confinement: A Gray Area (the James Holmes' story) (8/2/2012)
Visit NBCNews.com for breaking news, world news, and news about the economy
KFWB News Talk Radio AM 980 Los Angeles (12/15/11) 
Psychiatrist Warns About Electronics' Effects on Children's Mental Health
Garden Grove News Channel 3 (9/11/12)
Video Gaming Hazardous to Child Development


Mental Health Tips Video: Cell phone safety 

Cell Phone Safety Tips
BLOG


YouTube Channel:
AUTHOR BIO
DOWNLOAD [PDF]