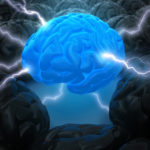 Oxidative Stress and the Central Nervous System: If This Brain Could Talk!
During a neuroanatomy lecture in medical school, one of our professors related his own experience of blanking-out during an exam on this brain anatomy.  He related how he sat there, becoming more and more stressed, with the clock ticking as he racked his brains for answers.   Stumped, he finally relaxed a little, sat back, folded his arms behind his head and simply said to himself: "So, tell me about yourself!"
Only about half the class got the joke, but that's another story.  But seriously, if our brains could talk to us, what do you think it would like to discuss?  Well, I imagine it would give us some advice, namely, on how to take better care of it.   Here are some basics I think all brains collectively would appreciate us paying attention to…:-)
The brain is more vulnerable to oxidative stress (inflammation) than any other organ.
When under chronic stress, your brain is both subject to the effects of inflammation and is less able to deal with them.
Ditto for chronic mental illness, such as autism or bipolar disorder.
Certain disorders (for example autism and ADHD) are associated with impaired defense mechanisms against such oxidative stress.  For example,  essential chemical reactions that occur at the cellular level may happen at slower rates or not at all.  Because their brain can't keep up with fighting the free radicals, the toxicity keeps compounding.  You can see how this creates a snowball effect!
The brain has many different mechanisms to combat the stress and inflammation, and uses a variety of vitamins, cofactors, amino acids, and food/plant-based antioxidants to do so.
Some of the antioxidants' job is to replenish other antioxidants by taking on their free radicals, and allowing them to do their job more efficiently.   For example grape seed extract can be up to 15x more potent when combined with Vitamin C.  This is why a obtaining abundant nutrients is  necessary but not sufficient- you need variety too!
Eating a variety of fruits and veggies builds up an army of antioxidants, all with different roles, helping each other out.
Part II will be about the brain and essential fatty acids.   
In summary, take special care of your brain!  Give it proper nutrition and supplements, exercise and stimulate it, and protect it from toxins and stress.  It is our most complex organ, and is most sensitive to influences,-both good and bad.  Your brain will say, "Hey, thanks for listening!"
Victoria L Dunckley, M.D.
http://www.drdunckley.com